Organization Design and Restructuring
Duration: 1-day session
By Suwich Nugoolsuksiri
CC Knowledge Base
In today's dynamic and competitive environment , the capabilities to adapt the structure, systems , work processes and cultures to supports and enhances business strategy efficiently and effectively are importance for organization. Organizational design / restructuring is not only moving the boxes, but also a fundamental and strategic tool of organization to create
competitive advantage and drive organization performance.
The alignment of structure with strategy, clearly define the functional and positions' roles, effective work process and linkage to improve work standard and efficiency etc. and also the implementation of change are the challenges for the today's organization.
This workshop will provides core principles, framework, models, tools and examples of organization design with a practical processes of assessing and designing an organization and functional structure / restructure that will enable participants to have the ways of organizing work to achieve your visions efficiently.
Agenda :
Module 1 : The principles , frameworks and models on organization design
Module 2 : Organization diagnosis
Workshop 1 : Current organization review & discussion
Module 3 : Conceptual design : Macro-structure
Workshop 2 : Case study - Macro-structure design
Module 4 : Micro-structure design : Link to Functions & positions
Workshop 3 : Case study - Functional structure and job design
Module 5 : Linkage of organization and other HR Tools
Module 6 : The guidelines for change
Workshop 4 : Case study - Implementation plan
Q&A and Discussion
Key Objectives :
? Learn the theories and practices on organization design
? Develop competencies in organization diagnosis and design
? Know how to make its change effectively
Topic Addressed :
? Learn the principles , frameworks and models for organization design
? Learn the methodology and tools for organization diagnosis
? Learn the approaches of effective organization design
? Practice the process to design the organizational and functional structure
? Learn the guidelines on implement the change
Who will Benefit From The Course ?
? Executives and Managers who are responsible for
organization management
? HR and OD Managers , Professionals and Internal Consultants
who involved in planning , organizational or divisional structuring
/ restructuring , giving advise or supporting structural changes in
an organization
Primary Result :
Participants will gain the knowledge and skills to tackle organization design / restructuring projects and approach to design effectively and use various tools and techniques to make good organization design decisions through exercises, case studies, group discussions and examples.
งานโครงการออกแบบโครงสร้างองค์การ
บริษัท ปตท.สำรวจและผลิตปิโตรเลียม จำกัด (มหาชน)
บริษัท ปตท. เคมิคอล จำกัด (มหาชน)
บริษัท ไออาร์พีซี จำกัด (มหาชน)
บริษัท พีทีที เมนเทนแนนท์ แอนด์เอ็นจิเนียริ่ง จำกัด
บริษัท ท่อส่งปิโตรเลียมไทย จำกัด
บริษัท สยามพิวรรธ์ จำกัด, ฯลฯ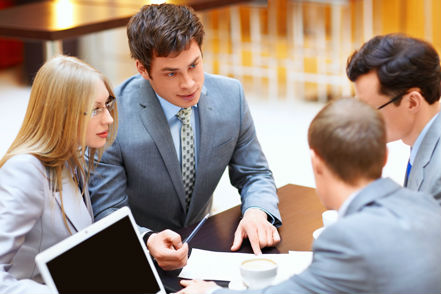 More Information Tel. 02 038 6681 , 063 806 1999 (Sales) or by email sales

cc-knowledgebase.com
Copyright ©2021. All Rights Reserved