Effective Communication Skills
Companies talk about needing better communication skills, but often do not know exactly what is that mean or they do not know how to make it happen. And without doubt, communication will go awry through no one's fault or intention – it is just the way it happens.
Being able to communicate effectively is a necessary and vital career part. Effective Communication will help you develop all your skills needed to communicate right messages effectively by identifying the receiver, choosing a proper channel, and responding to feedback. In this training program, you will also learn how to overcome a variety of common forms of interference.
Duration: 2-days session
Key Objectives:
Understand communication dynamics
Enhance the right communication channel
Able to behave communication appropriately
Make the positive attitude and good communication
Develop great listening and responding skills
Understand active vs passive choosing
Agenda:
Communication Meaning
Communication Factor
The steps of communication process
Type and formats of communication
Listening, Speaking and Writing Skills
Distinguish between the different kinds of communication channels
The importance of internal communications
Audience Analysis
Recognize what types of physical interference affect communication
Make personal improvements to your presentation effectiveness
Topics Addressed:
As organizations reduce management levels and flatten out the organization chart, interpersonal communication skills become a major component in effective delivery of products and services. Our communication skills training are designed to equip team members, colleagues, contract workers and management with the communication skills to: neutralize energy draining conflict, save time and money with effective giving and receiving of feedback. The command and control management approach is giving way to a more team oriented environment.
Primary Result:
Participants will be able to explain the communication process by using the communication model. They can also analyze personal communication style and demonstrate how to respond appropriately to the communication styles of others and choose effective techniques to overcome them. Our program will increase self-confidence and reduce anxiety for participants. Also create more effectively communication to receive or convey right messages to a group or to others.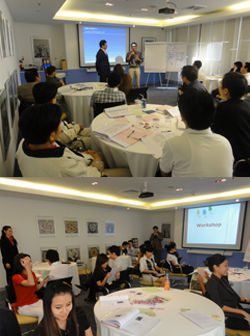 More Information Tel. 02 038 6681 , 063 806 1999 (Sales) or by email sales

cc-knowledgebase.com
Copyright ©2023. All Rights Reserved