7 Steps to be an Effective Salesperson
Sales is one of the most unique professions in the business world. Without successful Sales Representatives no company can hope to thrive. Day in and day out Sales Representatives are an organizations face to its customers. If they perform as expected, products can be manufactured and shipped, and payroll can be met.
This highly participative sales training program was developed as a way for new sales representatives to acquire critical sales skills and for established sales representatives to refine or sharpen theirs. This program utilizes movies, exercises, role-playing and discussion with case studies according to their related business field to meet the learning needs of every participant. We begin by identifying the most common mistakes sellers make and move through the sales process to teach the participants how to manage it successfully.
Duration: 2-days session
Key Objectives:
Understand Selling Process from the beginning to closing the order.
Knowing the Customer needs and wants in order to gain more convincing.
Learn to present the product to gain the good reputation to the client.
Make more confidence in approaching the client in difference style and behavior.
Agenda:
Step 1: Product Know-How
Step 2: Knowing Your Customer
Step 3: Approaching Sales Call
Step 4: Create Customer Needs and Wants
Step 5: Presentation Technique
Step 6: Closing Sales Technique
Step 7: Follow Up Sales Call
Topics Addressed:
Maximize your selling skills
Achieve sales quota and make more money
Know how to present your product as the best solution
Gain commitment & increase your closing ratio
Identify why certain customers are difficult and develop strategies
to turn them to your favor
Analyze cases to sharpen selling skills
Primary Result:
Our sales course will provide you and sales force a sustainable way to increase selling volume and protect your margins. Participants will learn the valuable of successful sales process, useful tools of the trade and the advice on being professional sale representatives of the company.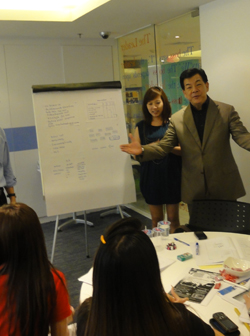 More Information Tel. 02 038 6681 , 063 806 1999 (Sales) or by email sales

cc-knowledgebase.com
Copyright ©2023. All Rights Reserved